Training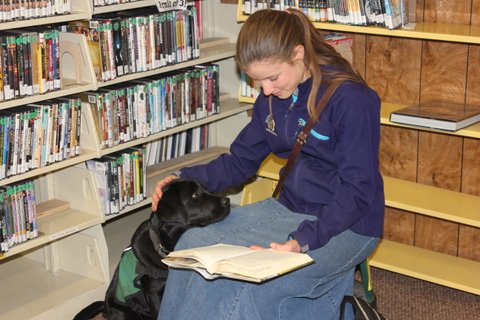 OBEDIENCE TRAINING:
Just like children, an obedient dog is a blessing to all who know him (except perhaps the person who suffers from allergies). From the time our puppies can leave their mother, we begin basic obedience training—come, sit, stay, down, and so forth. Having these basic skills ingrained is absolutely essential for any dog hoping for a career in service work.
SCENT TRAINING:
People have roughly five million scent receptors in their noses. Dogs have 300 million in their sensitive snouts! This explains how our specially-trained diabetes alert dogs can detect the scent of a diabetic who is experiencing the chemical change of falling blood sugar. They are also trained to alert their person when this change occurs so the diabetic can "correct" their low before it becomes a problem. The same is true for our Crohn's alert dogs.  They can smell the change in their person before the Crohn's attack comes. Some of our dogs have even learned to smell and alert the biochemical change in someone who suffers from seizures.  
Our dogs have had incredible success with detection work as well.  We are proud to have Remi win the Top Rookie Drug Dog in Texas for 2017.
We have found dogs love to play hide and seek scent games.  This can prove helpful in finding lost arrows which missed their mark and are buried in the grass.  It can also help a diabetic to find his/her meter by asking the dog to find it.  God has given Labradors fantastic noses they love to use, so we might as well leverage it for multiple benefits.

SERVICE WORK:
Service work means different things depending on the service dog.  An autism service dog would be trained to stop the stemming behavior of their autistic child. Mobility service dogs would be trained to open doors, retrieve objects for the handler, and many other tasks. Crohn's and diabetes alert dogs will mainly focus on scent training.
Under the ADA (American Disabilities Act) fully-trained service dogs are allowed to accompany people with disabilities in all areas where members of the public are allowed to go. (This does not include therapy or emotional support dogs.) Our service-dogs-in-training spend hundreds of hours in the public arena so they will be well-prepared for accompanying their companion wherever they may need to go. If you have more questions as to service dog laws please go here.

Our training is customized to the specific needs of the handler and family into which they will eventually be placed.